Hedy Lamarr Finally Gets Her Spread Spectrum Due in 'Bombshell'
AI, voice control, VR/AR, IoT/connected devices, autonomous cars—all these and more are going to be prime topics at this week's Consumer Electronics Show. But as a scoop of sherbet cleanses the palate, instead of diving right into CES, I'd like to discuss a new documentary about movie siren Hedy Lamarr. And, yes, her story is a tech story—and much more.
Sadly, when the name "Hedy Lamarr" is mentioned, the Pavlovian response is usually "that's Hedley!" If your familiarity with Ms. Lamarr doesn't extend beyond this Blazing Saddles reference, I highly recommend locating a showing of the new documentary Bombshell: The Hedy Lamarr Story.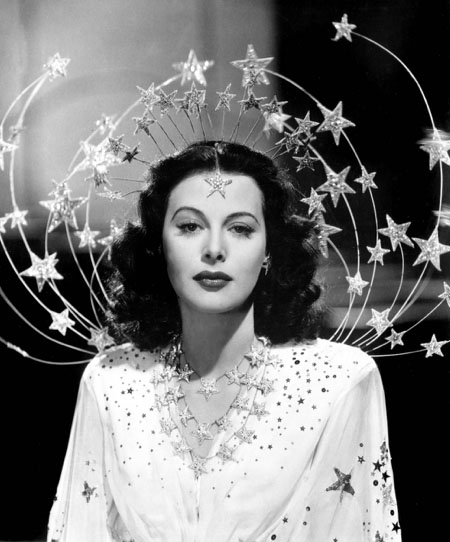 Hedy Lamarr was considered the most beautiful and glamorous woman in the world in the 1940s. More importantly—and most incongruously for our purposes in this digital space—Ms. Lamarr also invented the most essential technology of our time: frequency hopping, aka spread spectrum, which makes all modern wireless communications possible.
Most folks in the tech sector may have a passing familiarity with Hedy's technical work. If you don't, her story of invention is arguably one of the most remarkable in technology history.
Born in Vienna as Hedwig Kiesler in 1914, Hedy displayed an early mechanical curiosity and inclination, fostered by her encouraging parents. She grew into an inquisitive beauty and, at the age of 19, appeared fully nude in a notorious Czech film. She married a munitions manufacturer who only wanted her for arm candy when he entertained Europe's fascist leaders. He turned into a controlling movie-villain husband from whom she made an equally movie-like escape, running off disguised as a maid with jewels sown into her uniform. She made her way to England then to Hollywood. Her role in her first American film, Algiers (1938) as an international woman of mystery made her one of the world's most famous and desired women.
But this was not how a dissatisfied Hedy saw herself. "Any woman can look glamorous," Hedy observed. "All she has to do is stand still and look stupid.
" Even though she lacked any formal science or technical education, she set up a chemistry and gadget bench in her home and tinkered. She helped paramour Howard Hughes design faster airplanes. She came up with a just-add-water compressed Alka-Seltzer-like cube version of Coca-Cola. When German submarines began sinking then-neutral American shipping in the summer of 1940, Hedy struck on an idea on how to keep the Nazis from jamming Allied radio-controlled torpedoes: frequency hopping.
Hedy developed frequency hopping with a more mechanically-inclined friend, avant-garde composer George Antheil, patented it and offered it to the U.S. Navy—who promptly and, considering its source, patronizingly shelved it. After the war, the Navy handed the patent to defense department contractors, who had no idea of the patent's authorship since it bore Hedy's official married name, H.K. Markey. Over the subsequent years, frequency hopping became a critical tool in the development and deployment of U.S. military communications, including during the Cuban Missile Crisis quarantine in October 1962. It evolved into spread spectrum, without which there is no Wi-Fi, Bluetooth, GPS, cellular or satellite communications.
Thankfully, Hedy received some recognition while she was alive. In 1997, she received awards from the Electronic Frontier Foundation (EFF) and Invention Convention in 1997. But she sadly missed out on what would have been substantial financial rewards because she had no idea her patent was being used. Most of her approbation came after she passed in 2000, including a full-blown bio, "Hedy's Folly," by Richard Rhodes in 2011, then induction into the Inventors and Consumer Technology Association halls of fame in 2014.
Knowing these broad strokes, however, isn't the same thing as seeing and hearing Hedy, her life, her passion, her genius–—and, yes, the morass her life became after her Hollywood career ended, and then her ultimate technical recognition—laid out in front of you on the big screen. Most satisfyingly, writer/director Alexandra Dean has Hedy herself narrate most of her own story. In 2016, Forbes reporter Fleming Meeks discovered long-lost cassette tapes of his 1990 interview with Hedy. Hedy's memories are supplemented by interviews with her children, grandchildren, Rhodes, Meeks, other biographers and tech experts.
Aside from acting as an historical corrective, Bombshell resonates on several levels given today's political and social environment, portraying the patronizing way Hedy was treated as a beautiful woman who, therefore, could not also have been smart, and how her adopted country both rewarded and punished her for being an immigrant.
Yet, despite largely missing out on fame and fortune for her technical achievements, Hedy remained surprisingly philosophic in her final years, which may be the most remarkable aspect of Hedy's already remarkable life.
If you miss Bombshell in the theaters (or museums, check for show times here), it'll be broadcast on PBS' American Masters series and will be available on home video in May. And German-American actress and avowed Lamarr fan Diane Kruger has signed a deal to star in and produce a Hedy miniseries based on "Hedy's Folly."
But Hedy's story was no folly. Bombshell not only celebrates her technical achievements, but, most importantly, gives credit where credit was long overdue.