Chinese Smartphone Brands Go Beyond Their Borders
It is widely believed that international brand recognition signifies business success. Take Apple, Samsung, Toyota, Ford and Coca-Cola, for example. But why are there no Chinese brand that leap to mind when thinking about international brands? There are a handful that have some brand recognition outside of China, such as appliance makers Haier and Hisense. However, few Chinese companies have that kind of status.
In a country with almost 1.4 billion people and a booming middle class, the need to look beyond China's borders hasn't been a high priority. But as China's economic fortunes grow, more companies have international ambitions.
The smartphone category is one that Chinese companies have realized some international success. Chinese smartphone makers accounted for nearly half of global smartphone shipments in 2017. Chinese smartphone brands, such as Xiaomi and Huawei, have not only strengthened their positions at home, but they are also finding success beyond China's borders—especially in emerging markets such as e India, South Asia and Africa. Focusing on these emerging markets will help drive additional scale and market share for further expansion.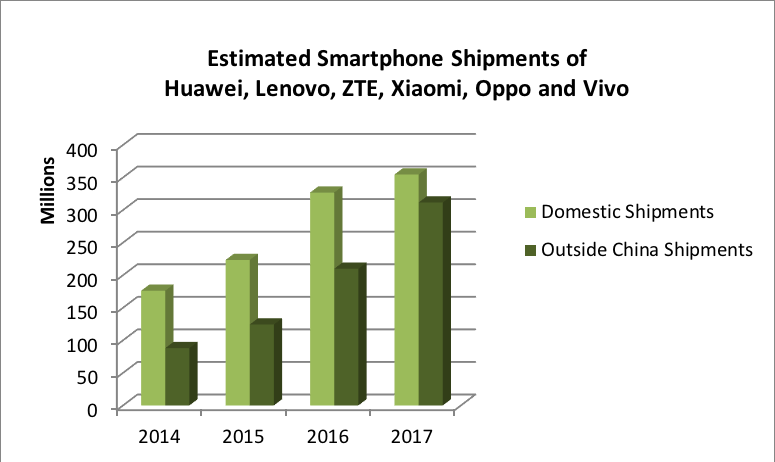 Some technology companies, like Lenovo, have gone beyond their manufacturing roots and developed branded smartphones products for marketing outside of China. The company's acquisition of Motorola's Mobility division was a move made, in part, to appeal to a more high-end consumer segment inside and outside of China.
These efforts are financially supported by the Chinese government, which is encouraging companies to expand beyond their borders. The State Council authorized a "One Road, One Belt" policy plan in 2015, which creates more physical connections (primarily in the form of infrastructure) with other parts of Asia and Europe. The policy also supports the non-physical connections in other parts of the world through sales of goods and services.
The road to transform domestic Chinese brands into international ones has not been easy. But, over time, some of these technology brands may join the ranks of universally recognized brands like Samsung and Apple.